My Blog
Posts for tag: veneers
By City Dental DC
September 26, 2020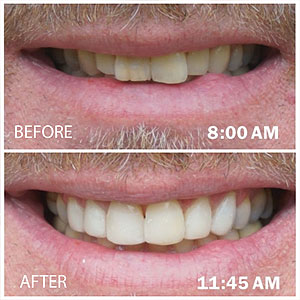 Orthodontics, veneers and other cosmetic dental techniques can turn a less than perfect smile into a beautiful one—but not always very quickly. For example, porcelain veneers can take weeks from planning to installation, including the meticulous work of an outside dental lab to produce veneers that look natural as well as beautiful.
But you may be able to take advantage of another approach, one that often takes no more than a couple of dental visits. Called direct veneers, it's actually a process of bonding and sculpting life-like composite materials to teeth that are heavily stained, chipped or that contain tiny crevices called "craze lines."
Unlike the similarly-named traditional method, direct veneers don't involve the creation of layered porcelain veneers fashioned by a dental lab. But this newer process is similar to the older one in that some of the enamel must be removed from the teeth in question to provide a suitable surface for the composite material to adhere. This alteration will be permanent, requiring a restorative covering on the treated teeth from then on.
Right before this preparation, though, a dentist typically makes an impression of the patient's mouth. This will be the basis for creating the procedural plan for the dental work, particularly a "trial smile" from similar composite material that can be applied to the patient's teeth before actual restoration work begins. This temporary application gives both patient and dentist an opportunity to visualize the final look, and make needed adjustments in color and shaping.
Once the work plan is finalized, the patient then returns for the actual restoration procedure. The dentist begins by applying and bonding the composite material to the prepared teeth. Then, using a drill and manual instruments, the dentist shapes and smooths the material into a tooth-like appearance that blends with other teeth. The procedure can take a few hours, but it can usually be completed during a single visit.
Although direct veneers may not last as long as porcelain veneers, the process is less costly and requires less time to complete. Direct veneers could be an economical solution for achieving a more attractive smile.
If you would like more information on direct veneers, please contact us or schedule an appointment for a consultation. You can also learn more about this topic with a firsthand patient account by reading the Dear Doctor magazine article "A New Smile With Direct Veneers."
By City Dental DC
May 28, 2017
What's an actor's most important feature? According to Vivica A. Fox, whose most recent big-screen role was in Independence Day: Resurgence, it's what you see right up front.
"On screen, your smile and your eyes are the most inviting things that bring the audience in" she said. "Especially if you play the hot chick."
But like lots of people, Vivica reached a point where she felt her smile needed a little help in order to look its best. That's when she turned to a popular cosmetic dental treatment.
"I got veneers years ago," Ms. Fox told Dear Doctor magazine in a recent interview, "just because I had some gapping that probably only I noticed."
What exactly are dental veneers? Essentially, they are thin shells of lustrous porcelain that are permanently attached to the front surfaces of the teeth. Tough, lifelike and stain-resistant, they can cover up a number of defects in your smile — including stains, chips, cracks, and even minor spacing irregularities like the ones Vivica had.
Veneers have become the treatment of choice for Hollywood celebs — and lots of regular folks too — for many reasons. Unlike some treatments that can take many months, it takes just a few appointments to have veneers placed on your teeth. Because they are custom made just for you, they allow you to decide how bright you want your smile to be: anywhere from a natural pearly hue to a brilliant "Hollywood white." Best of all, they are easy to maintain, and can last for many years with only routine care.
To place traditional veneers, it's necessary to prepare the tooth by removing a small amount (a millimeter or two) of its enamel surface. This keeps it from feeling too big — but it also means the treatment can't be reversed, so once you get veneers, you'll always have them. In certain situations, "no-prep" or minimal-prep veneers, which require little or no removal of tooth enamel, may be an option for some people.
Veneers aren't the only way to create a better smile: Teeth whitening, crowns or orthodontic work may also be an alternative. But for many, veneers are the preferred option. What does Vivica think of hers?
"I love my veneers!" she declared, noting that they have held up well for over a decade.
For more information about veneers, please contact us or schedule an appointment for a consultation.
By City Dental DC
November 05, 2016
You have a problem with your teeth. Functionally, there's nothing wrong with them — but it's another story when you look in the mirror: discoloration, wearing or maybe a slight gap between them.
Fortunately, you don't have to settle for a smile you're not happy with. Less costly than crowns or bridgework, porcelain veneers can nonetheless correct many mild to moderate cosmetic problems with teeth and transform them into an attractive smile.
Like the name implies, a veneer is made of thin layers of dental material custom-designed and bonded to the outside of a tooth. Veneers can correct problems with color, tooth shape and size, and mild misalignments or spacing. It's akin to installing new siding on a house.
To begin your journey with veneers, we must first examine your teeth to fully assess your dental needs and ensure you have no issues that could prevent applying them. Then, we prepare your teeth: although not to the extent as for a crown or bridge, we must remove a small amount of tooth material so the veneer will appear natural and not bulky.
We then make an impression mold of your prepared teeth that a dental technician will use to create your veneers. During this process they build up layer after layer of liquid porcelain until they achieve the right thickness, shape and color to match your teeth.
In the meantime, we can fit you with a temporary set of veneers made of acrylic plastic so you can chew, speak and smile normally. These provisional veneers also give you and your friends and family a chance to see what your new smile will look like.
When your veneers are ready, we'll create micro-etches in your teeth that will help keep the veneer secure after we've bonded them. Once bonded, the veneer will feel like an inseparable part of the tooth and look it too. No one except you and us need know you're wearing veneers.
If you take care of them — keeping up daily hygiene habits, not biting into hard surfaces, and visiting us regularly for checkups — your veneers can last for many years. And so will that beautiful, new smile.
If you would like more information on porcelain veneers, please contact us or schedule an appointment for a consultation. You can also learn more about this topic by reading the Dear Doctor magazine article "Porcelain Veneers."